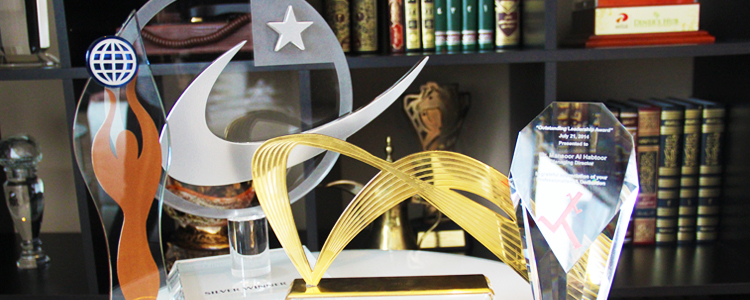 Cutting-edge technologies and research
Our investments in research and an in-house IT department allow us to provide reliable systems for an extensive clientele, focused on user convenience, safety, and efficiency. The company's senior management generates a comprehensive core curriculum every six months to map out our research priorities.
Systems developed in-house
Green Valet Parking (GVP)
Valet parking management system (VPMS)
Airport limousine management system (ALMS)
Taxi dispatch management system (TDMS)
Eco porter management system (EPMS)
High-calibre staff
Engineers are at the heart of our company, and all our employees are highly professional. Our recruitment strategy is based on ability, strong work ethics and commitment to success.
Quality management
Staff working at our clients' premises are fully trained and managed by us to provide exceptional service, complying with our quality manual and company policy. Our customers are provided with a direct contact number to discuss any comments or concerns, and we make sure to understand and implement our clients' requirements.
Enterprise resource planning (ERP) software
We consistently raise the bar through our innovative ERP software, setting new standards in the market, combining design implementation, operation, and maintenance with continuous support and upgrades.
Proven customer service track record
Our top priority is quality customer service and care, with a dynamic approach to providing information that is precise, timely and accurate. We guarantee that all points of contact are always available to meet our clients' specific needs, and we provide contact names in all communications.
Awards and accolades
Our team has been recognised with the Sheikh Mohammed Bin Rashid Award - 2004 (Best Facilities Management), Mohammed Bin Rashid Al Maktoum Business Award - 2013 (Services Category), the Bizz Award - 2013 (Inspirational Company) and the Sheikh Khalifa Excellence Award – 2014 (Services Category), as well as the quality management standard certification ISO 9001:2008.
The company has also received regular recognition in the Government of Dubai Quality Awards and from the Dubai Department of Civil Aviation, for our contribution in building a strong, strategic alliance between all sectors of the national economy and for providing exceptional transportation services to the UAE's most prestigious guests.
Global market research company J.D. Power and Associates gave us the highest rating for our valet parking service at Atlantis The Palm. We also achieved a 10 out of 10 rating for our work at the Fairmont Dubai, and regularly receive appreciation letters from our high-profile clients.