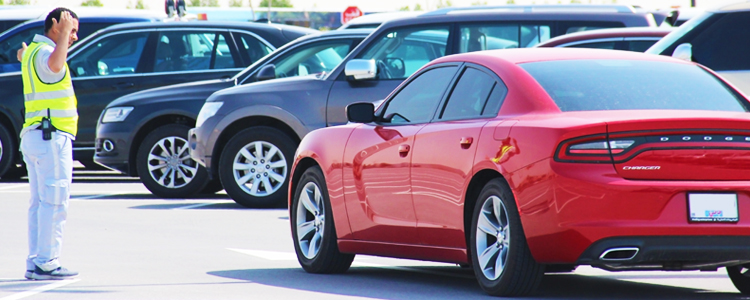 Keeping traffic flowing smoothly when there is a large influx of vehicles or people requires a thorough and committed approach. Our traffic management systems make safety top priority, while ensuring the delivery of effective solutions to manage traffic better.
Our experience includes large scale world class events such as the Dubai Air Show, Emirates Airline Dubai Rugby Sevens, Abu Dhabi Grand Prix, Yas Marina Circuit, Dubai World Cup- Horse Racing, Meydan and managing the traffic for Abu Dhabi International Airport (AUH), affording us a top ranking internationally in the traffic control and management industry.
Our goal is to provide a safe environment for our customers, staff and the general public, while maintaining an effective traffic flow that works for everyone.
We offer these traffic management services:
Planning and consultation
We have a dedicated team with the knowledge and experience to assist you with managing your requirements for traffic control, offering cost-effective and safe solutions to any project. We are committed to providing support to our customers in every phase of the project lifecycle – from planning, design and implementation through to the continuous improvement of traffic engineering. Our design and planning team can give advice and guidance on traffic management issues, for people and vehicles. We work with you to deliver practical and proven solutions that will reduce traffic and increase safety for all users.
Traffic marshal services
We employ only trained and qualified traffic marshals, who offer a high-level of customer service. Our team has a wealth of experience, with a commitment to excellence.
We design and execute curbside and mobility solutions enhance traffic movement on public or private premise. Our teams also operate a control communications system to ensure a smooth flow of traffic.
Valtrans is the traffic marshal service provider at Abu Dhabi International Airports, offering professional car parking entrance checks, supervising pedestrian crossing areas, taxi and shuttle drop off/pick up points, guiding and redirecting cars and visitors while ensuring compliance with laws and regulations. Our traffic marshals are equipped with high-end traffic control devices and take reasonable steps to take to keep any undesirable or adverse effects to a minimum, facilitating safe and efficient traffic, even in emergencies.
Events conducted by Valtrans
Special events management
Our event traffic management capabilities are unmatched, thanks to an expert team, who devise solutions that will have a minimal impact on the surrounding area. We have proven track record in controlling vehicle and human movement in malls, concerts, sports events and more, working with our clients at all stages from concept planning to execution of traffic schemes on the day of the event.
Examples:
Dubai Air Show
Emirates Airline Dubai Rugby Sevens
Abu Dhabi Grand Prix, Yas Marina Circuit
Dubai World Cup- Horse Racing, Meydan
We also play a key part in exhibitions, sports events, and other regional and global events featuring high profile personalities, at:
Dubai International Airport
Abu Dhabi National Exhibition Center
Dubai International Stadium, Sports City
Dubai World Trade Center
Global Village, Dubai
Dubai Festival City
The Emirates Palace Hotel
Atlantis The Palm
In addition, we offer traffic equipment rentals to facilitate traffic control.